SEO SERVICES THAT WON'T GET YOUR WEBSITE PENALISED AND BLACKLISTED BY GOOGLE
WHAT WE DO AS AN SEO CONSULTANCY
Australian Website Authority provides a range of Search Engine Optimisation services that will help your business build its online presence and increase its rankings.
We only provide what is known in the online marketing industry as white hat SEO Services, with a focus on long-term results.
Unlike some other SEO companies, we do not engage in SEO strategies that will hurt your website rankings long term. While some other SEO companies may increase your rankings quickly by rapidly building backlinks on low quality sites, your website will suffer when Google finds those links and either drops your search ranking or removes you from the search rankings altogether.
If you are looking for an SEO company that you can partner with long term and get lasting results we can help you.
We will formulate an SEO strategy that can be implemented and will help your website increase its rankings over time. We have found that the websites we build, rank well on Google in most markets due to the on-page SEO optimisation.
This does depend on various factors such as the industry you are in, your geographic location, your target market, and also your competitors. For those industries that are more competitive, we can implement a strategic plan that will increase your ranking over time.
To have long-term success you will need to formulate a plan that will increase the likely hood of you staying at the top of the search rankings.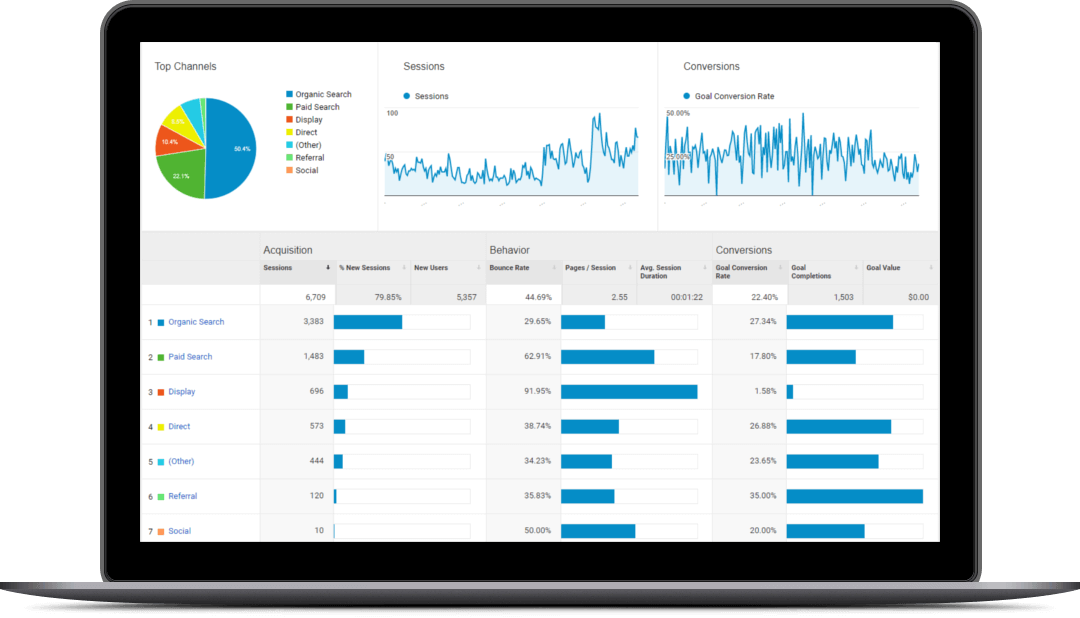 OUR SEO SERVICES COMBINE THE FOLLOWING
ON PAGE SEO
Our websites have all the necessary on page SEO optimisation in place. Your images have the necessary tags and are optimised, the meta data is in the place it should be with the correct keywords, and with clean code you website will load quickly.
LOCAL SEO
Your website can be listed in the top website directories as well as Google My Business. We can help you ensure that your local listings will have the correct listing information in place with the same information on your website.
GOOGLE INTEGRATION
Your website will be tightly integrated with Google. Your website can be linked with Google Analytics, Google Tag Manager, and Google Search Console. We can also help you with setting up your Google My Business listing. 
MOBILE RESPONSIVE
Part of a well-formulated SEO strategy is to ensure that your website is well suited to mobile devices.  Our websites are mobile responsive and will look great on smartphones, tablets, laptops and on desktop computers.
SEO STRATEGY
We can help you formulate a strategic SEO plan and put together a schedule going forward that can help you achieve better rankings for your website long term.
CONTENT MARKETING
Part of your SEO strategy should involve a content marketing element. At Australian Website Authority we can help you with your content creation and ensure you blog posts are optimised for the search engines.
SOCIAL MEDIA
We can help you put a social media schedule together along with your content so it gets shared across the various social media platforms. Enhancing the chances it will be read and shared.
VIRAL MARKETING
The hardest thing to do when it comes to SEO is creating content that will go viral. It takes research, effort, and knowledge to create content that people want to share.
YES, I WANT HELP WITH MY WEBSITE SEO!
If you would like some help with your websites search engine optimisation click below to send your details or to get our contact details.